Curtis Johnson with the Resolution passed by the Washington DC City Council acknowledging the Soul Searchers as the creators of GoGo Music.
(
read the resolution
)
About The Band
Popular Washington D.C. area singer/songwriter Curtis Johnson, member of Chuck Brown and the Soul Searchers, has released his first twelve-inch long playing single recording entitled "Just Gimme That Greenback Dollar Bill", on the Advance Record label.
Since the release of this first album, Johnson has been spending time writing and performing in the Washington, D.C. metropolitan area.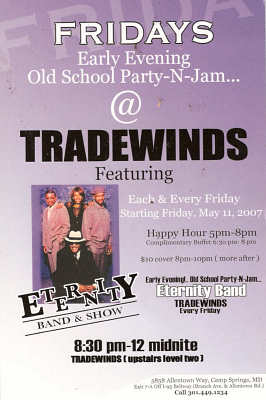 "Greenback Dollar Bill" was recorded in June at Omega Recording Studio in Rockville, Maryland. Johnson, who does the Lead Vocal, Background vocals, and plays Hammond organ, bass synthesizer, electronic drums, and keyboard is joined for the album by Tommy Croson (electronic guitar), Skip Fennell (Keyboard), and Denise Simms (background vocal). The production is by Curtis Johnson with assistance from Jerry Wilder and engineering by Brian Smith and Chris Murphy.
"Greenback Dollar Bill" is available in record stores throughout the Washington Area, as well as at performances and by mail order from Advance Records at 7434 Old Alexander Ferry Road, Clinton, Maryland 20735. Place orders by phone at (301) 894-4215 or (301) 868-0320.